I TOOK THE TRAIN FROM JOBURG TO DURBS
greetings from Durban, South Africa. where the beach is warm, the winter is warm, and the people are… well… very friendly. Durban is definately the chillest city in the country. i got here on Friday, Aug 13 only intending to stay for a day or two. Two weeks later I am only now leaving.

RELAXING ON THE BEACH WITH A BEER IS STANDARD PROCEDURE
I am staying in a quintessential hostel, meaning that it triples as a place to sleep, a sense of community, and a travel agent. Guess which one of those three is the most profitable. Since i got here i've been thinking a lot about the difference between travel and tourism. I like travelling. I don't like being a tourist. Most of the people I talk to seem to feel that any difference between the two is just my trying to justify myself while still supporting the tourist industry. One interesting thing is how I don't feel comfortable taking pictures of local stuff. It's like there has to be a tacit agreement so that they have to agree: hey i'm being objectified. For this purpose I organized a photo scavanger hunt. The idea is that you get into teams and go around taking digital pictures of the city. There are different catagories (like "sexy" or "out of place" or "oops!") and you have to get a picture for each one. later you meet up over beers and compare pictures. It's interesting because during the game because you're on a mission, not taking pictures for their own sake but in order to win a game, you feel comfortable doing things you would not otherwise, like taking cool pictures.
More on this later.
How have I spent my two weeks? Not especially productively but time well spent. For the first week I finally drank and then urinated Sacramento out of my bloodstream. then I turned to going to the beach every day and learning to flare, which is juggling with a wine bottle and a shaker. it's a "sport" very popular among the bartenders here. Most of my time I spent with Sally, Helen and Luke (below)
The big tri-nations rugby finals was in durban and while tickets were too expensive for me i was able to see south africa ruthlessly defeat australia. which was fine. that combined with the olympics stirred up a bit of national pride. It was positive pride in all but one person who was overly vocal about hating americans. Later he passed out:

and in the last couple days i got my PADI scuba certificate so now i can dive whenever wherever (well up to 60 feet or so). it's really an amazing experience. you're neutrally bouyant the whole way so the way you go up and down is entirely by modifying the breath in your lungs. so the air you breath is not only the fuel for your body but the main form of vertical locomotion. you can't describe it but it's a lovely feeling. it's really better (and a lot different) than i expected. though it's really scary.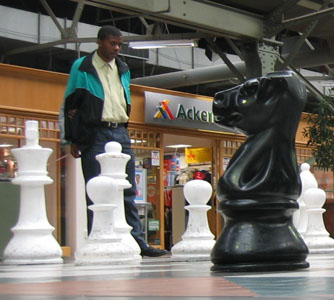 GOT MY BUTT WHIPPED ON THIS GIANT SIZE CHESS BOARD
tomorrow i am off to visit a Luke, "a peace corps volunteer" in Lesotho, a small country completely surrounded by south africa. most of the directions involve minitaxis and hitchhiking. sounds like turkey again (directions read: "go into the village and ask for the man they call Ntate Stabo"). mm….
0
0
triptrap
triptrap
2004-08-26 11:01:00
2012-11-10 23:48:56
cool runnings